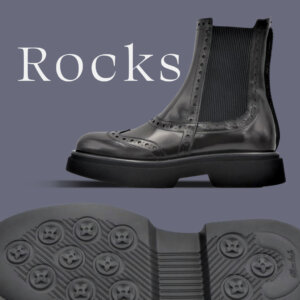 Lightweight, versatile, designed for those looking for a personal touch to each of their creations.
Rocks is a Blowtech outsole with a classic heart, but with infinite customization possibilities.
By working on templates and milling, the outsole can be shaped and finished to adapt it to your vision, making each shoe a unique work of craftsmanship.
Do you wanna know more?
Write us! info@gommus.it
TECHNICAL DATA SHEET
Category: classic/milling soles
Shapes: Form Studio E7386
Material: Blowtech
Expansion: 1.4
Available colors: black, ivory
Sizes: 38