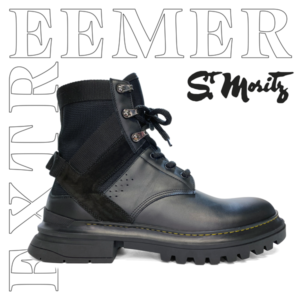 From today to September 24th we are at Lineapelle, the main fair for our industry. where we will present a preview of our latest St. Moritz brand news. A collection of hybrid products that combine different styles in a synthesis never seen before.
We have already talked about Hybrid: on the front it is similar to a lug tread sole, with the typical dowel bottom. Behind, on the other hand, is inspired by sneakers, with a smooth heel and ultra-modern design.
The second novelty is called Extreemer and combines the stylistic qualities of combat boots and sneakers. The result is a sole with an aggressive look but extremely comfortable and flexible: brilliant, in our opinion!
The idea was born from a careful observation of the global trends in the footwear industry. We wanted something absolutely innovative, yet tied to styles perceived as familiar by users.
The rest came from the comparison, experience and work of our designers.
Do you want more info? Contact us!