Which color to choose? What are the main features? Can I see details? Now the answer will appear on your screen, with one click!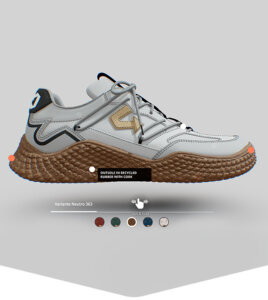 In fact, we have developed the first Gommus online configurator, entirely dedicated to the Go!Zero line. You can already find it on our website! Click here to see it!
The configurator shows a realistic 3D model of an ecological shoe with a Go!Zero article 2023 sole applied. The compound that composes it is made of rubber with incorporated natural elements such as cork, coconut fibers and jute.
Using the mouse, you can rotate the image and see it from any point of view.
With the wheel, on the other hand, you can move the shoe away or closer, to see every little detail up close.
Some colored dots indicate points of interest: you can click them to see the description appear.
Finally, you can choose the color, using a selector at the bottom of the image.
The sole is totally vegan and contains from 15 to 30% of cork, one of the lightest materials in nature. In fact, cork is a vegetable fiber composed of a hive of microscopic cells wrapped in a gas similar to air.
In addition, our investments continued throughout 2020 and we continued to create non-stop. So there are interesting product innovations in store!
Write to u.daniela@gommus.it and we will fix an appointment with you for a web conference presentation of the latest and interesting news.